Current Galleries, Exhibitions, & Residencies
Past Galleries, Exhibitions, & Residencies
Resolutions 2019
​Hillsborough Gallery of Arts
Hillsborough, NC
January 7-January 31st, 2019

Wake Med Raleigh, New Burn Campus
Solo Exhibition
​Raleigh, NC
October 2018 - November 2018
Gallery page of paintings available here:
WakeMed
2018 North Carolina School of Science and Mathematics Fine Arts Series Spring Exhibition
Durham, NC
April 2018 - June 2018
​
Gallery page of paintings available here: NCSSM
NIDO
Durham, NC
​Artist Reception for Katie Ree at Nido
Friday, September 16, 2016
6:00pm - 8:00pm
"Each painting, sculpture, or other work I create is a both a meditative experience and a way to push myself to notice more. What colors are really in a sky, a field, a river, a mountain? What lines and spaces make up a tree? How do you express the gentle breeze, the whispering of trees, the sound of a peaceful sky? How do you be still and one with yourself and the world around you?"
Come out to Nido to see the nature-inspired work of Katie Ree. Katie starts many of her paintings while observing nature by the Eno River, and finishes them in her studio.
http://www.nidodurham.com/events/2016/9/16/artist-reception-for-katie-ree
Powered by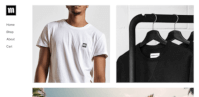 Create your own unique website with customizable templates.